Here are some fun gifts for a One-Year-Old!

Color Rings
I love the color rings! This is one of my favorite toys! This is one of my go-to first birthday ideas. These are great for fine motor. An added bonus is I am able to incorporate colors into our daily play. At first it will be practice for putting the rings on. Then you will continually model sorting by color. I never really had to "teach colors" to my oldest. We talk about colors as we read, played with this, and when we were out and about. 
Shape Pegs
This is a good one to upgrade to after they master the color pegs. It gives an extra degree of difficulty. I love watching and seeing my kids' thought process while playing with this. It is great for problem- solving! My twins are 15 months and they sit for a long time and do this! We have the first one. I found one that is similar on Amazon for a better price! This is a harder puzzle, so they are just practicing and playing! 
Picnic Basket 
This was also on my 6-month gift list! There is a reason this has thousands of stellar reviews! This is great because my kids always loved putting the picnic food in the basket and pulling it out. It melted my heart when my child was old enough to pretend we were having a picnic. I have no doubt you will make memories with this!
Velcro Fishing   
This is another go-to first birthday gift! I vividly remember my 11-month-old twins pulling hair and crying to use the fishing pole! I love that they have 10 different colors of fish. We work on the word fish and pull over and over while playing with this. Then I will say, "Look, you got a pink fish. Pull the pink fish off." This along with the color rings pretty much taught my oldest his colors. I love to add learning in while we play. This worked on colors, counting, and fine motor skills at the same time. It is very motivating, and it will keep the kids wanting to play more. What makes this even better, you cannot find this toy in every chain store. Which makes your present unique! They make products that target learning while having fun all in a natural play-based setting.
No Fail Lacing
My son was able to do this before the suggested 18 months. I loved how I saw my son gain confidence and early fine motor skills. He loved wearing the necklaces he made. I also made sure I praised him and wore it while doing chores around the house. 
Piggy Bank
This is another one of my favorites! This is an amazing toy for fine motor practice. It seems like most one-year-olds love putting items in containers. My twins love this toy! We played with this toy at a play place. They loved it! I bought it and squealed when they learned how to put the coin in the piggy bank. I was concerned because one of my twins struggled with fine motor and the other one had advanced fine motor skills. After playing with this for a week, I saw a big improvement. It made my teacher mama heart happy! It is a great toy to practice words such as in, pig, open, push, etc. 
Oven
My kids love cooking the eggs and baking the cupcakes in their oven.
Slide
This is a great toy around 18 months. They are moving around and you may have a wild one that likes to climb. This is a great toy to add to a ball pit. When my twins were smaller we had a baby slide. They loved sliding into a pile of pillows. My son grabbed every pillow in the house and they had a blast.
Teapot-This has 1,000+ amazing reviews. This is great for pretend play. My twins love pretending to drink and eat. I would pair it with this book! 
Laugh and Learn Puzzle
We received a similar one for my oldest child's first birthday. It was a big hit! It made my teacher heart happy to see him successfully complete his first puzzle.
Fine Motor Hedgehog
This is great for fine motor skills. They were so smart to have the "quills" store right inside the toy! The manufacturer suggests 18+ months. I am all about bringing toys out before the suggested age. 14 months would be a great age to introduce this toy.  It is a great price point and gift for a first birthday!
VTech Basketball Hoop
There is just something about seeing your spouse and child "slam dunking" on this toy. This sports center makes for lots of laughs. The backboard counts the number of baskets and there is a soccer net below the basketball hoop. It is great for your growing child or spouse.
Bowling Set
My 15 month twins love this bowling set. It says it is for 2 years and up. I am all about buying games ahead of their age as long as it isn't a choking hazard. I like putting a couple gifts away and bringing them out when the time arises.
Tunnel
This might go down as one of the twins' favorite toys! One of my twins loves to tunnel under things. My other twin loves to play peek-a-boo and shake the tent. I have the best memories with my kids and this tent! It folds up easily and I throw it under the couch. They have loved it since they were six months old!
Bubble Machine
We had a bubble machine at my oldest child's first birthday. It was a HUGE hit! We had a bunch of friends buy one after the party. Kids were giggling and dancing through the bubbles. Do yourself a favor and buy extra bubbles! Speaking from experience, put the bubbles and machine out of your one-year-old child's reach. We had a Gazillion bubble solution on our driveway and a screaming one year old. You will not be disappointed, it is such a fun toy!
Ramp and Cars
This comes with two cars! It has a filling station and it can even launch the cars in the air! We have an older version of this and my three kids love it. This is tall and encourages my twins to stand to play with it.
Water Table
This is a fun water table! We had a pirate one and it wasn't nearly as fun as this! I love how the rain falls from the top layer. The water wall feature is really cool too! 
I had this on my 6-9 month list! It is the best!! My 3 kids loved the sounds each of the three size balls make when you shake them. Pair this with any box or container and you will have a happy baby! For extra speech built in, hide the block and ask them where it went in a very animated way. You can also use words like shake, stack, crash, and boom to give your baby or toddler exposure to words. My favorite moment with the blocks was when I watched my youngest work so hard to stack two blocks. Then he did three blocks! I was amazed at his perseverance to get three blocks stacked on top of each other! I always noticed that my youngest twin struggled with fine motor from a young age. His twin has amazing fine motor skills and hand-eye coordination. My Mama heart was so proud of my boy!!
Personalized Chair
My kids love this chair! It is super comfy. My husband and I were just laughing at our twins sitting together on this. Quickly, it was followed by the two standing on it to reach their brother's tool bench! There have been many Disney movies watched on this. I have found even with minor spills it washes and looks brand new. 
String a Farm
This is another great toy to grow into! I am always looking ahead and buying gifts that will last until the next holiday or birthday. I am lucky that my kids have Summer birthdays! It is great because every six months they get some new toys. This is probably closer to 18 months but a great one to have on hand!
Play Cars
Kids love to get out and go! This adorable car will have kids imitating their parents. Raising children really is like holding a mirror up and watching how we behave. Sometimes it makes me proud, and other times I just blame it on my husband! The pink and blue cars are the best for pushing your child around the neighborhood! Even with twins, I can easily maneuver two of these on the side walk at the same time. They were ready to get going! It is a lifesaver when we are cooped up! 
Letter or Number Monkeys
I was in shock at how much my kids loved these! I put them in a bin. I add plastic cooking utensils and a mixing bowl and they played forever! My 14 month twins were obsessed! I bought these on a whim for my older son and I am still shocked at how excited they get! You can use them in so many ways. They are great for kids learning letters and they have a set for numbers. They are bigger than the picture portrays. These are a great manipulative for letter recognition, making words, fine motor practice, addition, subtraction, and so many more tasks!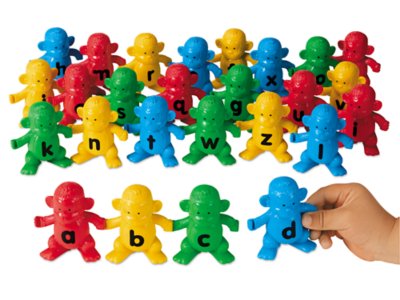 Big Knob Puzzles
The teacher in me loves this puzzle! I love the exposure to shapes while working on fine motor skills! Melissa and Doug have tons of adorable big knob puzzles!
Play kitchen
My twin boys started to really get into this around 15 months. They love it! 
VTech train
This has so many features! It is a riding toy and walker that teaches letters and counting! My twins got this around 9 months and loved it! This is great for babies that can sit up, and up to 3-years-old! I personally loved putting the Lego bricks in the top and watching them pop into the caboose. My oldest child exceeds the weight limit, but he rides it all around the house. What we loved about this is it has so many features to keep them busy. I am a big fan of toys that grow with my children. 
Ball Pit
We have a ball pit similar to this one! We have had it for 3 years and it is great! We bought several packs of balls. Be sure to order way more balls than what you think. We liked this tent because it can become a tent when they are 3-4 years old and "go camping." The best part is it folds up easily and keeps the balls inside better than an open ball pit. It is a great price point and you will have giggles for days! 
Popup Animal Turn Key
My in-laws have this at their house. This toy has been around for awhile for a reason. My boys love playing with it! They love seeing the characters pop up! Watching the cause and effect is really fun. 
Toy Phone
My twins have fights over this. We have another phone, but this is the one they love! My 4-year-old makes work calls on it.
Shopping Cart
All three of my kids love this! They shop around the house for items. There are so many great memories with this! We like the wooden food the best! The wooden ones hold up the best. 
Wheely Bug
My kids rode on this at a play place and they instantly fell in love with it! It will be great to grow into. I am someone that loves to buy gifts a bit before so I have it on hand. This is one that may not work right at 12 months, but soon after they will be taking off! I was surprised it worked on carpet too. This is on my twins' holiday list! They have bees, mice, and tigers too! Be sure to get the "small" one!
Finger Puppet Books
Literally, nothing makes my twins happier than finger puppet books! Well, maybe chicken nuggets. One of my twins could care less about reading. I am not going to lie, it made my teacher heart a bit nervous. Recently, I got out my oldest son's finger puppet books. We have 6 different ones and he could not stop laughing. He has a deep voice and laugh, it sounds like Santa was laughing right next to you. It is hilarious! These books are what really sparked my younger twin's interest in books. This book would go perfectly with the Wheely Bug ride-on gift! 
Climber
I have a friend that keeps this in her basement so her kids can get their energy out during the winter. Genius!
This one is so adorable! Fisher Price stepped up their game with this farm set. We have the older version. This one blows the other one out of the water! I love the adorable bells, sounds, and turning features. My son played with this set when he was around 15 months. I put it away when we moved. I got it back out a little after he turned two and he was obsessed. We put our sets out and made it like a little town of Little People. I still get these out for my 4-year-old. I love to see how his imagination and play has evolved with his age!
Oball
My 3 children love playing with these! They are easy for young ones to hold on to. The best part is they grow with the child. My oldest is 4 and my youngest are 1. They all love playing with these! They are bigger in person than they appear here! My boys like to pair them with their "bricks" and it is so much fun!
Green Toys
These are made from recycled plastic! I love how you can chose the different color combos! They are very sturdy and so much fun! As you know, it is so hard to find good bath toys that don't mold. These are not intended to go in the bath, but my oldest took the airplane in when my husband was giving him a bath. After asking my son why he did this he said, "Relax Mom, they will be okay since they don't use batteries." He was a Threenager at the time. I choose not to pick that battle.
Shape Sorter
This is a fantastic price! I have owned 3 different shape sorters. This by far exceeds the others. It is larger than the picture makes it look. My twins will sit for long periods of time playing with this! I like to introduce words like in, out, on, and off. Do not concentrate on the names of shapes yet. It is an easy thing to want to do. Other words are important for your little ones to understand and communicate first. Be very enthusiastic when you are playing with them! Build the suspense and it will make it more engaging for your child.
Duplos
This is another toy that will grow with your child. They probably won't be ready for it right at one. But is is great soon after!
Bath and Pool Towels
Kids grow so fast! Invest in the towels that are marketed for ages 3 and up. For a special gift, you can even personalize them! These are adorable ones you can personalize from Pottery Barn Kids.
I found some other cute ones I listed below. My mother-in-law has the dinosaur one at her house for my oldest. 
Forrest Friends
I bought this for my twin's first birthday gift. They really started to get into them around 15 months. One twin pulls them out and has learned how to put them back in. My other twin just likes pulling them out. They are great for fine motor skills. They love squeezing and chewing on them. We talk about the animals and practice the words "in" and "push". My 4-year-old joins in to play as well! One thing I have learned is to bring toys back out even if they didn't love them at first. Developmentally, they may not have been ready to enjoy it at the fullest capacity. When they are a bit older try again. 
My Mother-in-law has a set. My kids love playing with them! 
Xylophone
I still remember my youngest son playing with this! It is well made, and the reviews mirror how well loved it is. Fast forward to my twins. They love the noise it makes when you hit the ball. When the ball falls, it causes the ball to hit the "music" xylophone. This one is definitely built to last through many kids! Extra bonus… no batteries! 
Here are my twins favorite books! I can't believe how much all three of my babies have loved Sassy books! The patterns around the pages are mesmerizing to them. Babies absolutely love song books like, You Are My Sunshine and Clap Your Hands. Even if your child doesn't know Elmo, they will adore these ones! The Babies and Doggies Book was a gift and it was a hit! Something about real pictures of babies and doggies captivate their interest! Little crab is an adorable finger puppet book. The Very Hungry Caterpillar, Brown Bear, and Goodnight Moon are classics you must share with your child!