Once your child has passed the stage where they put everything in their mouth, it feels like there are so many more options for toys. When you love an item, click the picture and it will take you to see the product! 
Fine Motor 
Stamp Sets- These are so much fun! You can always use them for school age children. I think it would be fun to have them create a story using the stamps or label the stamps. 
Spin Art- I remember having one when I was younger. These are so fun! My oldest had a blast making pictures. He played independently for 45 minutes. The best part is this doesn't require batteries. You squeeze the handle to make it move. I love how they are working on squeezing the paint and squeezing the handle to make it spin!  Do yourself a favor and order the refill kit. Your child will love this!
Feed the monkey, dog, or bunny! This is adorable and so much fun for counting and fine motor!
Alphabots- My son was obsessed around 2.5-3 years old. Ok, Nerdy teacher Mom confession. I bought them when he was 6 months old. I waited for the day he showed interest in letters and got them out. 
Scribble animals- I am in love! I love that the kids can use the washable markers on the animals. The kids use a little brush and tub to clean the animals. I love that they can draw on them over and over.  The little bath tub is adorable. In the teaching world they encourage young children to write with broken crayons and golf pencils. These markers are shorter which help with the development of your little one's fine motor skills. It basically forces them to hold it with less fingers and pinch with the thumb and index finger. They also sell smaller sets for a stocking stuffer. 
Play-Doh- This will keep your child busy for a long time! If you have a budding hair stylist, they will love that Rapunzel's hair grows and they can cut it! Play-Doh has been around forever because kids love it and the teachers love the benefits of kids playing with it! My oldest loves making snakes and using Play-Doh scissors to cut them. 
Food Cutting Wooden Set- I bought a plastic set and have regretted it ever since. It was not as gratifying to slice through food as this one is for kids. This is a skill they will be learning, and it is great to practice with a pretend set. You can also talk about safety and the proper way to hold a knife. After using this set, I got a plastic knife and let my son cut a real banana. He felt so proud! 
These make me laugh! When I saw them I just knew my oldest would love them. He doesn't love to color. When I really need him to do something, humor gets him every time! These are hilarious! 
Water Wow is great for kids ages 2 and up. Even under the age of two is totally fine. I have the connect the dots book for our restaurant bag! I love when we have a couple minutes and can work on number recognition through play! My oldest has loved these books since he was two. So he was willing to try something a bit harder because he was familiar with the books! 
Place mats for Table- As a teacher and a mom, I am always looking for ways to incorporate learning into play and in our daily routine. These place mats are a perfect way to do that! They can be used as Play-Doh mats too. You can use them under your child's plates at the dinner table. This is a great tool to have on hand when you have a minute or two before cleaning up. One way to incorporate learning into your routine is asking your child to point to a certain letter, then move on to sounds of each letter. Then ask them other words that begin with that sound. The possibilities are endless. Our lives get busy. This is a way to show your child how letters, numbers, and counting are a part of our everyday life! If you would like to write on these, use dry erase markers. Reviews stated dry erase markers work best.
Art lovers! These are a great gift that will last for years! I picked Crayola Crayons because they are the best quality! Depending on your child, you can pick their favorite character's coloring books. 
Fine Motor – Lace and trace, stringing sets, and pop beads are great fine motor practice for your little ones! I like using the beads to introduce patterns. Learning through play is the best way! My first and third graders loved playing with the beads (last picture) during indoor recess. Lesson learned, put the beads in a container where they can spread them out to look and pick. If you don't, you will find them for years to come. My first graders and third graders loved them! 
Building
Marble Game- This was so popular in all my 3rd grade and 1st grade classrooms during indoor recess. I bought a set for our house! I love how they can mix and match to make new marble routes! This is a great toy to get your child thinking! When you have multiple marbles going at one time it is so much fun! Bonus, you will want to join in! Just watch the marbles around younger siblings. We have a rule that we only get it out when I can play and when the twins are napping. That way I can keep track of the marbles. 
Puzzles are a great gift! Melissa and Doug's Giant Puzzles are my son's favorite. I will be honest, when we really got into puzzles, I had to teach him the tricks of putting together a puzzle. After that he took off! Above you will see different choices. They have a variety of pieces you can choose depending on their level. The alphabet puzzle is super long and adds to the excitement. I like how the last puzzle is also a search and find puzzle. Melissa and Doug puzzles are a great price point and would make a great gift on a budget!
Water/ Bath Sensory Table blocks- It is so hard finding bath toys that 3 and 4 year-olds love. It is harder finding ones they love that don't get disgusting! These blocks are engaging and can be used at the water table or in the bath. My son likes to set them on the edge of the bathtub and push his car like it is dominoes or an obstacle course.  It is such a fun toy! It is very fun to watch it float.
Playstix- These are the new age Lincoln Logs. They were very popular during indoor recess when I taught first and third grade! In my opinion, they would be better for a 4-year-old. My husband, son, and father-in-law were are playing with these today. They also sell a set that has wheels for more building fun! They had so much fun!
Lego Jr-  Playing with Legos is amazing for fine motor. We have a friend that loves building Lego sets with her son. I asked her for advice on what sets to get. She said her son loves the Firefighter and Truck/RV set the best. These are sets that a parent will need to help with at first. She told me the Lightning McQueen sets are simpler and great ones to start with. If you are new to Legos, be sure to keep each set and directions in the original bag/bin. It gets overwhelming to fish through the piles for one piece. My friend lays her child's set on a baking sheet and flips the pieces over so he can see them. Then he gets the pieces and puts them on. She always has great advice! My son will love getting these for Christmas!
Blocks- We love blocks in our house! I am always looking to add to our sets. I was reading reviews that said the city blocks were smaller. My teacher brain thought this would be great for fine motor skills and a growing imagination! My son has several sets similar to the castle blocks. He absolutely loves them!
More Options for Blocks! Pirate, Farm, and Castle Sets- These sets include a picture book. You could also add another picture book or costume that goes along with the theme. Here is the pirate costume and knight costume. I love these block sets because they are not sets you find in every chain toy store. I love how children can use their imagination and create stories to go along with it! This is great for children's imagination. I love the conversations and words you can introduce with these blocks!
Magna Tiles-100-piece set- I remember standing at the store debating what set to get. A couple was standing there too. The husband struck up conversation and said they were back to get an additional set because the smaller set didn't have enough to create his child's creations. It is definitely an investment, but with years of longevity. It has helped my son learn two equilateral triangles can make a square, how to build a stable tower, as well as learn names and build 2D and 3D shapes. My son has used his imagination and has created roads for cars, garages for trucks, spaceships, and cages for his zoo animals. I find myself excited to play and create. To be completely transparent, when we first got them, my husband and I put our son to bed and continued building. It is that much fun!! This is a great gift for a child to help build their math and science skills. 
Following Directions- I think this would be great for a child that is easing into building. I love that it starts out with building a 3 piece duck and progresses to building an 8 piece motorcycle! This is a hard skill to master. The fact that it slowly progresses is genius! This would be great before introducing Lego sets. 
Earthquake Engineering Kit- My son runs to play with this at the store. Kids work on creating a building that can hold up during the different levels of earthquakes. This would be a great gift for a future engineer! STEM learning at it's finest!
Jumbo Building "Bricks"- I bought these when my oldest turned 4. My one-year-old twins love stacking them. I like that they are large and easier to stack. All 3 of kids stack them high and my oldest rides one of our indoor toys through this "brick" wall. It is such a simple game, yet I hear the loudest laughs. My son asked my husband to join. The next thing I know, my husband has the lights turned off and has a flashlight out "announcing" my oldest before he comes to knock them down. I am going to be completely honest, Santa better not wait until the night before to assemble these. These filled up a trash bag after I assembled them. I promise it is worth it! We use these daily! If you are still doubting me, check out the 900+ glowing reviews! These have been around forever for a reason!
This has great reviews! My oldest is getting this for Christmas!We love toys that don't require batteries and is great for the imagination!
Dinosaur Lovers
Here are two choices for Giant Dinosaurs. We have the first set and I consider it a great investment! When kids come over they gravitate towards these. They love how big the dinosaurs are. I wish it showed how big they are in the picture. As an alternative you could also try out the second set that has thousands of great reviews. I added some other fun dinosaur items to finish off the fun theme!
Dramatic Play
Around 3.5 is when my oldest started to really get into dramatic play. We play flower shop, ice cream shop, vet, grocery store, camping, bug catcher, and restaurant. I love this time to work on conversational skills, manners, situational skills, counting, value of coins, handwriting, and speech words and sounds. You can even add a notepad, pencil, and a takeout menu and you are set! When we play ice cream shop, we just add in Pom Pom balls (Dippin' Dots), plastic bowls, and ice cream scoop. It is so much fun!
Melissa and Doug Dress Up- They have so many options! They are quality clothing that will endure years of play.
Princess Dress Up- Your child will love to dress up like their favorite princess! I still remember rocking these shoes at the grocery store. My mom was the best for letting me be creative! Or maybe she decided not to pick her battle that day. 
Melissa and Doug Food and Pretend Play Sets- We love these sets! Right after my twins were born, my oldest was having a hard time transitioning from being an only child to having two new siblings. I got out our pizza set, the chef costume pictured above, cash register, and shopping cart (for deliveries). My sweet husband played along with the Pizza Party theme. We made "homemade" (store bought crust) pizza with him. While it was cooking, my husband played disgruntled pizza customer. I had to laugh at their conversations! My son used the shopping cart to make deliveries and used the pizza set to role play making pizzas. It made us laugh and it was an amazing bonding time with our oldest! 
My friend has this set! How adorable is this?? This would be a wonderful present! It is a fun age to watch them role play. I added in the "order up" set in case space is an issue. 
Pretend Play Supermarket Set- I love the great price on this! I couldn't believe how many items it offers. Just be careful with children that may put the coins in their mouth. We pair it with the cash register that we own for even more fun! I honestly didn't realize how much use we would get out of the register until my son got into dramatic play. When I was watching my nieces on their day off school, I decided to create a grocery store. I saved our cardboard food boxes from cereal, pasta, milk cartons, etc. I taped them up or rinsed them out according to the need. I added in shopping bags, an old purse, and a wallet. This made for an entire day of dramatic play! My nieces and son had the BEST time! 
Baby Alive-I love giving these as gifts. They are great for big siblings gifts! Some do "poop" in their diaper. So if you prefer to spend your money on wine rather then a pretend doll's diapers, pick the potty trained ones! But seriously, dolls are great for your child's development. I love watching my kids give them hugs and kisses. Bonus, changing their clothes is great fine motor practice. 
This battery operated camera will keep your little one busy and off of your phone. I made the mistake of leaving my phone on the table after I took a picture. Days later I saw my son took over 300 pictures. My friend bought this for her son and it was a hit! Let's be honest, we are probably not going to develop these pictures. These cameras don't cost $800 and won't take pictures like our phones. But they sure will keep your kid busy taking 300 pictures of the carpet!
Play Favorites
Crane and Truck- My friends talked about this brand of trucks and how amazing they are. For my oldest son's 4th birthday they bought him a truck and he also received a crane. They are definitely more expensive, but so well made. My son loves the real "working" crane. He hooks toys on to it and drops it in the back of his truck. I can now say I understand why they love them so much! The truck's wheels are so realistic. This would be an adorable gift paired with these themed items. What can I say, I love a good theme! It's the teacher in me! 
My oldest loves remote control cars. A little boy was playing with his car at a park last week. Our kids all went over to watch him play with this! It was a hit.  I love that these have separate frequencies and amazing ratings! I can't wait to get these for my twins!
This car is so strong and made us all gasp at what it can do! My son discovered it can climb up a metal surface. It has a heavy duty magnet that is embedded into the design of the vehicle. My son pushed this car a little bit and we watched it climb and stay in place on our front door. It has been there all day! It can push and pull 25 times its weight. There are so many toy cars that are underwhelming. This one is a favorite!! It would be a great gift, stocking stuffer, or Easter basket addition that would make any child happy! We keep one in our restaurant bag too!
Imaginex- These are great for this age! My oldest loves this ship and Batmobile remote control vehicle.  It has been over a year and he still plays with them daily.The toys are high quality. The Batmobile has withstood twin toddlers pulling and trying to ride it. It is really fun to play with. I love the details that go into the design of their toys. The Dinosaur is a popular toy this season! My son is already asking for the dinosaur after seeing the commercials. 
My oldest got these for Christmas last year. They have withstood an entire year of constant play. They definitely bring out the kid in us. It is one of our most popular toys when kids come over to play. I love all of the color choices. This is a toy that will grow with them! They may even be a good alternative for kids that do not have phones. The range says it goes up to 4 miles. 
House- My oldest loves going over to my friend's house. They have amazing toys! Her daughter has this. It is adorable! There are tiny pieces. They are great for fine motor, but we had to put them up because my twins wanted to eat the little pieces. I can't stop giggling at how cute this 7 seater van is! I was shocked at what a great price point they are! I also added the luxury villa in case your little critter has champagne taste! 
My oldest is getting the Paw Patrol Fire Truck for Christmas! He is going to be so excited! When the twins were born my son received the tower as a gift. The tower is so popular on play dates. We have all of our Paw Patrol toys stored together. This is big enough all of the kids can play together.
Matchbox cars are always a hit! They have been around forever for a reason! 
Car Carrier with Accessories- I like that this comes with road accessories and 6 cars. There is a handle on top that makes it easier to transport. 
Personalized Cape- A friend is ordering this for her child for Christmas! I thought it looked like a great idea! Santa Mrs. Claus can roll it up and put it in the stocking. 
I still remember getting my Barbie House when I was little. It was a magical moment I won't forget! This is great for a child that is 4 and up. I also added her "vacation" house if you don't want to spend your mortgage payment on the dream house. How cute is the Barbie Teacher! Doesn't every teacher wear glasses and skin tight yellow leggings to school?
Peppa fans! Here are your new favorite toys!
LOL Surprise!- Apparently there is a trend where kids watch YouTube videos of other kids opening toys. I mean its kind of weird to think about but insanely popular! This toy adds the element of surprise to the gift. You won't know what is inside until they "unwrap" them. I hope they don't sell out this holiday season!
Outside Play
Stomp Rocket and Book- My nieces and nephews loved playing with this! I love pairing a book with a gift. This book is a board book and it has a simple way to introduce the solar system. When my son was 3 we were doing a volcano science experiment. During the experiment he reminded me how Mars has giant volcanoes. I was shocked he remembered that. 
Basketball Hoop- There is something about watching my nieces and nephews whose ages range from 3 to 15 play a game with my child. There are not many toys that can cause laughter from such a wide age range.
Golf and Tball Sets- These sets are great for the backyard! It will be a home run, pardon the pun, for any gift! 
Role playing with yard toys are a huge hit with my oldest! We have a different trimmer, but this one is similar. My son follows my husband around the yard "helping." My favorite is when he goes out while my husband is working to do the yard work. When my husband comes home, my son tells him it is all taken care of. My son's favorite "tool" is still the lawn mower. Definitely get a lawnmower that has bubbles. This one was easier to push than another one my son received as a gift. My son follows my husband around the yard with his "big boy" tools. It is hilarious when he gets out his chain saw and trimmer when my husband is landscaping. Needless to say, the neighbors and people passing by get a kick out of it.
I have three friends that own this! Two of them keep it in their basement. I love that it has a net around it. How amazing would that be to have in your basement on snowy and rainy days?? Genius!
Plasma cars are so much fun! You can use them inside or outside. My son prefers to use his feet to make it go. The website states it can hold up to 220 lbs! It works best on hard, flat surfaces. FYI, it doesn't work as well on carpet.
Picnic Table- You get a lot of bang for the buck! We have a large family. My dad has this at his house for the 3 and up crowd. He keeps it inside, in the basement, and brings it up when we have family dinners. When you look at the pictures on Amazon, you will be sold. It folds up so easily. I believe we had 4+ children sitting at it including a 7 and 9 year-old! It is super sturdy! 
Bubbles- These are the best! By three, I hope your child is over the "dump all the bubbles out" phase. I take these to so many places. We used them while waiting for a parade to start, at a grandparent's house, on walks, and at sporting events for their siblings. By the way, if you haven't bought a bubble machine yet, do it. I will never forget the giggles of the kids at my son's 1st birthday party! They all loved dancing and catching bubbles. Do yourself a favor and buy a Gazillion Bubbles. It will last you forever!
Games
Jumping Jack Game- My mother-in-law bought this for my son. He laughed for a good 20 minutes. You take turns pulling out the carrots hoping if Jack jumps out you can catch him. My husband and in-laws joined in playing. This would be a great idea for an Easter gift!
Yeti in My Spaghetti- My sister-in-law raved about this one. We got it and my son loved it. It is similar to Kerplunk, but Yeti in My Spaghetti was much easier to set up. I have thought about throwing away Kerplunk for the sheer fact that there is not enough alcohol in the world to get me to set that up again, plus my son thought he was winning when marbles fell down. Ha! Take my advice, stick with Yeti in My Spaghetti!
Don't Break The Ice is on my oldest's Christmas list! It has so many amazing reviews. We are excited to try it!
Leaping Letters helped my son with letter recognition. It is the new version of Perfection. You race the timer to put all the letters in their spot before they pop up! The added bonus is how their little fingers have to hold the tiny knob which is great for their fine motor practice!
Go Fish Learning- I played Go Fish with my son tonight. We have a deck that features cartoon ocean animals. I kept thinking there has to be a better option. I looked on Amazon and what a teacher dream come true! Letters, numbers, and shapes?? The best part is they are learning through play! Once your child masters the letters, you can move on to letter sounds! We bought this card holder. It has over 600 perfect reviews. My 4-year-old struggled to hold all of his cards in his hand. It is a game changer! 
This is a good game to work on colors, taking turns, and being a good sport if you lose!  I loved using Candy Land in the classroom. Even my Third Graders loved playing.  When I taught Third Grade, I had six Candy Land games. We used Candy Land to reinforce so many skills. I loved being able to differentiate with this. For example, a group of kids working on division, 4 games of multiplication, and one game of subtraction. For example, if a child got a multiplication problem correct they could draw a card to move their player. This was always a popular choice when we played math games on Fridays. When I tutor or teach in small groups I write sight words on the note cards. If they were able to read it they got a turn. The engagement was fantastic and I swear they learn so much more when a game is involved.
Memory Games are great for 3-4 year olds! We have a similar set. When I played it for the first time I took out some pairs so my son wasn't overwhelmed. As he improved, I added in more pairs. I love watching how much he has grown since we first played it. The teacher in me would pair a Curious George book with this game. It is a great way to have them connect with the tv show, books, and game! 
An Occupational Therapist I worked with sold me on how wonderful Operation is for kids and their fine motor skills. She had a brilliant tip. Do not put in the batteries for young children. When they are older and sharpen their fine motor skills, you can put in the batteries for an added challenge. 
We got this game as a gift. My oldest loves it. He doesn't quite understand the strategy, but we sure do have fun! I love that he is working on vocabulary (the animal's names) through play! 
Let's Go Fishing Game- My son played with this and was hooked, pardon the pun. It made me all kinds of dizzy, but every time he plays with it, it brings back the nostalgia of playing this at my grandma's house. It takes some serious concentration and perseverance. After 4 times, he got in the rhythm and was loving the challenge. We have races to see who can get the most fish. I am teaching him life skills and I surely do not let him win every time. If your child struggles with winning and losing, read the book, Pig the Winner. I love this book!
This game keeps selling out! I am linking it hoping it will be back in stock! My son laughs so hard while playing this. I also use this when I am tutoring. After the students answer a question or several questions they can "fish" for a sea creature from the shark's mouth. But watch out, you never know when the shark will close his jaws and keep your fishing pole. This adds so much engagement into our lesson! The best part is it doesn't need batteries!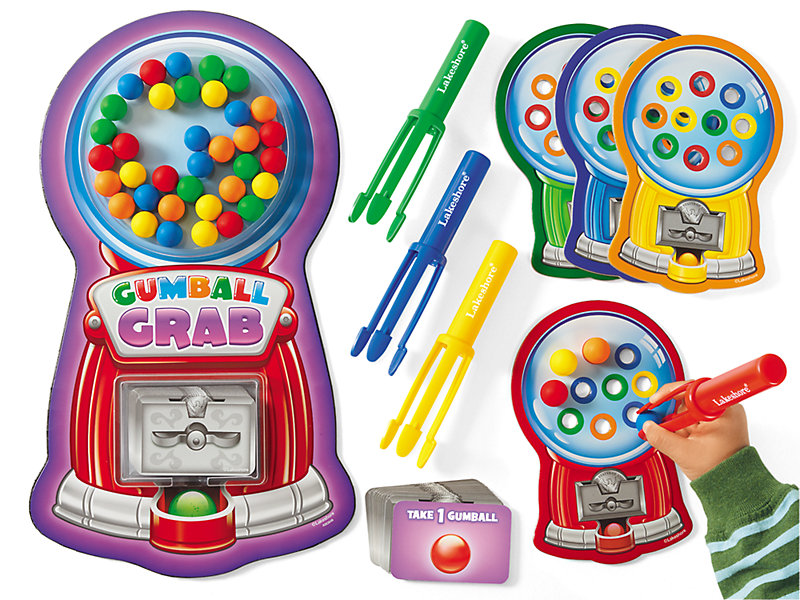 Fine Motor Gumball game- This game is amazing for fine motor. My son is a little over 4 and does not love to write or color! I do tons of games and activities to keep him working on his fine motor.
Spot it! This is one of my favorites. I was shocked how well my 4-year-old did when we played this! He genuinely was getting cards before me. The teacher in me loves how they created ones for numbers, shapes, and letters. This is great to take to restaurants or while you have a wait.
I just ordered the Snack Shack game. It looks great for fine motor practice and to help review counting. I am also going to slip in some addition "talk" with my 4-year-old. I am all about learning through play. The reviews look great for this! The Squirrel game (works on colors) is by the same company. It is very popular and has great reviews as well!
Hi Ho Cherry-O- This was one of the first board games we played with our son. It is a good one to start with. I liked that the cherries are small and helps with fine motor skills. It is also great practice for basic math skills!
More Favorites
Night Light Projectable- I fell in love with this after my friend with two kids brought these when they spent the night. They are adorable and there are a bunch of options. My son loves Paw Patrol. We got him this night light and he loves looking at his friends. After we got it, he talked about what the animals did in his "dream." I was surprised how clear the picture was! 
This suitcase/ride on toy saved my friend while they were traveling! Who is the genius that thought of this?? Do yourself a favor and watch the video. After a friend told me about this, I was sold! Can they make these for adults?? 
Sleeping Bags- How excited would your child be to get a sleeping bag with their favorite characters on it?!? I was surprised how may different sleeping bags they offer!
Umbrella- When my oldest was 3, he got an umbrella. It was his favorite possession! Pair it with some rain boots and a rain jacket and they are all set to tear up the puddles!
Lounge Around- I came across these and I had to check it out because of the amazing reviews! They are super popular! These are the covers only. You will need to buy the pillows that go inside. There are so many options for covers. What a great idea! The first one has close to 900 stellar reviews!
Water bottles- Personally, we love these cups! They don't require taking any parts out. Just unscrew the lid. We are going on two years with these. We have had several other water bottles but they seem to always get mold. You just press the button and sip!
Santa will be dropping this off at our house this year! We were trying to decide between this roller coaster and a larger one pictured above. We have several friends that keep theirs in the basement, front hallway, and bring it outside too! I have a 4-year-old that is taller than some adults. We decided to invest in this one so we have years of play ahead of us! We will be putting it in our basement for the kids to enjoy all year. I don't know who will be more excited, the adults or kids?!?!?
Subscriptions
My students loved when I put out the new National Geographic for Kids. They also sell National Geographic for Little Kids which would be good for this age. Highlights (High Five) and Ranger Rick Jr, Magazine are also a favorite! They have a bunch of ages for that too. Personally, I would go directly through the company. 
Favorite Books